Agia Marina...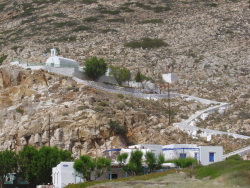 Agia Marina is also called 'Pera Panta'. This is the name that locals gave to the beautiful area of Agia Marina. Its name comes from the homonym church which is climbed low in the mountain of Agios Simeon. In the past years there were many potteries. Even today some of them are obvious, witnesses of a very productive past. In the place of potteries, are now shops and rooms for rent. Agia Marina is integral piece of Kamares but has its own personality. There prevails the quietness and the calmness, away from the noise of the busy port.
West...
The western side of Agia Marina perhaps is still quieter and is an ideal place for persons that seek the calmness in their vacations. The rooms for rent and the taverns of the region are found in a short distance from the sea and offer an incredible view of Kamares bay. The sound of the plashing waver completes the picture. It is worth following the path up to Agia Ekaterini. You will find yourself in front of a beautiful church built by the sea. In the precinct of the church there are stairs that lead to a small natural port. The clear but also cold waters of the area are offered for an enjoyable swimming.
East...
The Eastern side looks more like mountainous landscape. At the beginning of the road of 'Vorini' – thus is named the road to the Saint Simeon - you will find a lot of hotels and rooms for rent which offer absolute quietness to the visitor. The sound of the sea of western side is replaced with the bleating of the goats that go down from the mountain and the sound of their bells.